4 Amazing Oils,
14 Anti-Aging Secrets
Our award winning blend for ultimate skin nutrition
Pure Fiji's secret is a balanced blend of exotic oils which include virgin coconut oil, dilo oil, sikeci oil and macadamia nut oil. This time honoured blend has been used for centuries in the Pacific as a therapeutic remedy and also as a daily ritual moisturizing, nourishing and protecting skin and hair.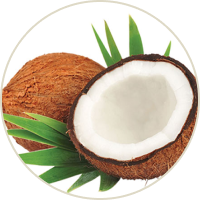 Coconut Oil
The Islanders of the South Pacific discovered long ago the amazing benefits of pure coconut oil in softening, healing, soothing and helping to protect the skin..... timeless knowledge that we are now rediscovering. Pure Virgin Coconut Oil is hand pressed from fresh coconuts using a cold process that retains the natural nutrients.

High in Lauric Acid (50%).
The only other major source is Mother's milk.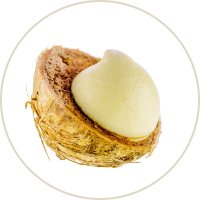 Dilo Oil
Exceptionally high in essential fatty acids, including oleic and linoleic acids, analysis of the Dilo oil also lead to the discovery of a previously unknown fatty acid - Calophyllic Acid.

Found only in Dilo oil, this essential fatty acid stimulates the healing process by promoting the growth of new tissue – thereby accelerating wound and scar tissue healing, and the growth of healthy new skin.

This process of forming new tissue is known as Cicatrisation.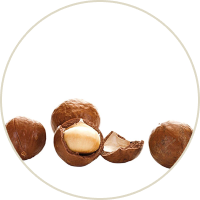 Macadamia Oil
Macadamia Nut Oil restores palmitoleic acid. Palmitoleic acid eventually becomes depleted as you age. By utilizing macadamia oil, you can restore your skins palmitoleic acid levels. Palmitoleic acid helps stop the speed of deterioration of your skin, stops wrinkles from forming, and tightens the skin. It also helps heal scars and sunburns.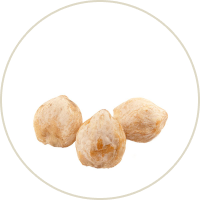 Sikeci Oil
Sikeci nut oil contains high levels of the linoleic and alpha-linolenic fatty acids, vitamins and anti oxidants that help soothe dry skin and heal wounds . This oil is readily absorbed into the skin, providing tissues the essential elements that it needs.
Shop Social
Get social with @purefiji on Instagram and tag #ilovepurefiji so we can flaunt you in our feed.